Nicklaus Suino and Shambhala Books Presents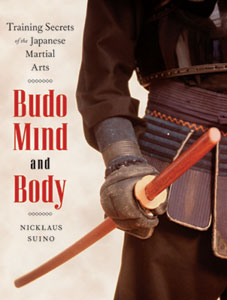 Budo Mind and Body: Training Secrets of the Japanese Martial Arts
    by Nicklaus Suino
    Boston: Weatherhill
    2006, 160 pp., 5.5" x 7.25" illus. (hardcover)
    ISBN 0834805685 . $16.95

    Available from:
    Shambhala Publications
    P.O. Box 308 Back Bay Annex
    Boston, MA 02117-0308
    Toll-free Tel: 888.424.2329
    Tel: 866.424.0030
    Fax: 617.236.1563
    E-mail: custserv@shambhala.com
    www.shambhala.com

    Review by John Donohue, Ph.D.
    Albertus Magnus College


    Nicklaus Suino has established himself as an authoritative writer about and
    practitioner of the Japanese martial tradition. He writes balanced, thoughtful
    works on budo, and this latest work is no exception.

    Budo Mind and Body is, in fact, a modified version of his 1996 work Arts of
    Strength, Arts of Serenity. The current book contains five short chapters:
    Training the Body, Training the Mind, Budo Culture, Three Martial Virtues, and
    Training the Spirit. In these short sections, Suino provides cogent, down to
    earth analyses of the process of walking the martial path in Japan's modern
    arts. Despite the breathless editorial subtitle that hints at "training
    secrets," Suino does a nice job of expressing how the study of budo is a
    process requiring discipline, patience, and effort. The results can be profound
    and transformative, as Suino clearly believes, but his conviction that these
    results are achieved through rigorous training comes as a nice corrective to
    popular ideas about the martial arts and magical skill.

    The author includes nice thumbnail sketches of various modern martial arts as an
    aid to individuals considering taking up the study of one or the other. This
    book is, in fact, a nice introduction to budo for individuals new to the world
    of the dojo. It is short on hyperbole and long on experience and common sense.
    I would recommend it as an appropriate work for novice students, although the
    clarity of Suino's prose and the sincerity of his convictions regarding the
    benefits of studying budo would recommend it to any reader who shares something
    of his experience and his beliefs.

    Suino also provides a brief bibliography at the close of the book. While
    composed of the author's personal favorites, the list would have benefited from
    the inclusion of some additional resources.there are, for example, newer and
    more accomplished introductory works on kendo than Sasamori and Warner's
    forty-year old book, and the reading public has benefited from quality work on
    kyudo by the Deprosperos.

    As a final quibble, while I congratulate Weatherhill on the firm's continuing
    success in producing quality works on martial subjects, I do wish that they
    would consult with people (like their own authors) before designing jacket
    covers. Suino's fine book is fronted by a photograph of an individual wearing
    full kendo armor, grasping a wooden sword. Trainees in kendo use the bokken,
    but don't do so wearing the protective mitts known as kote. And even the
    greenest beginner in any of the sword arts could have told the photographer
    that the practice sword is held with the cutting-edge up. These kinds of errors
    probably make an accomplished individual like Suino grind his teeth in
    frustration, but he should rest assured that, whatever the minor flaws of the
    book's cover, the contents are of high quality.

Available at fine bookstores everywhere, and at Shambhala Books and Amazon. Signed copies will be available directly from the author. Send your request to Suino Sensei at info@artofjapaneseswordsmanship.com