Nicklaus Suino and Shambhala Books Presents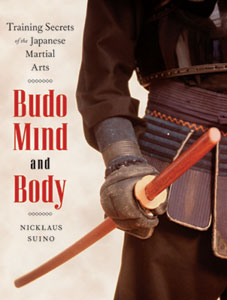 Nicklaus Suino, widely considered one of America.s foremost martial arts teachers, sets forth in clear detail the training methods of the Japanese martial arts. From its roots in Bushido and Zen, Suino discusses how budo training can assist the beginning, intermediate, or advanced student to achieve his or her physical, mental, and spiritual goals.
Chosen as .Essential Gear. by Black Belt Magazine (August 2006), this manual has become a martial artist.s bible for many practitioners of the arts. Suino cites examples from all the various Japanese martial arts, including jujutsu (also known as .jiu jitsu. or .jujitsu.), judo, iaido, aikido, karate, and kendo. Available from the author, from Amazon, and from fine booksellers all over the world.
Read a Review By John Donohue, Ph.D.
Albertus Magnus College
Available at fine bookstores everywhere, and at Shambhala Books and Amazon. Signed copies will be available directly from the author. Send your request to Suino Sensei at info@artofjapaneseswordsmanship.com